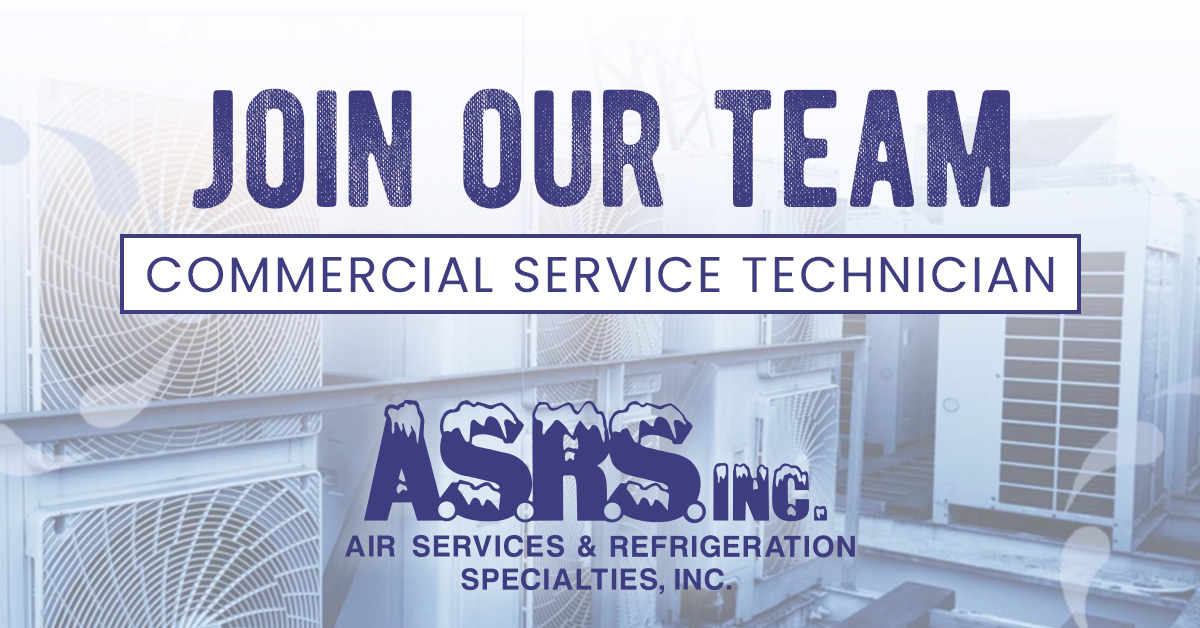 Commercial HVAC Service Technician Job Description
Air Services and Refrigeration Specialties, Inc. has provided quality refrigeration and HVAC services to the Coastal Empire and Low Country areas for over 40 years. ASRS, Inc. is a team-orientated company. We strive to provide our clients with the highest level of service and workmanship every day.
Please call to schedule an interview at 912-232-5500 or email your resume to [email protected] ALL INQUIRIES WILL BE KEPT CONFIDENTIAL.
Commercial HVAC Service Technician Qualifications:
Minimum of 3-5 years of experience servicing and maintaining 5-TON and over HVAC equipment.
Experience with refrigeration equipment is preferred but not required.
EPA Certified
Ability to perform independently and in a team-oriented environment
Professional appearance and hygiene
Possess necessary hand tools, meters, and gauges
Job Responsibilities:
A.S.R.S., Inc Commercial Service technicians perform preventative maintenance, troubleshoot, and service commercial HVAC systems.
Experience with Refrigeration equipment is preferred but not required.
Is provided a company vehicle and travels to various customer sites to maintain commercial
properties.
Understands control operation and sequence of operation for commercial HVAC systems and/or Commercial Refrigeration equipment.
Has strong communication skills and can foster strong relationships with customers, vendors, and team members.
Complete preventative maintenance and repairs per work order requirements.
Access and complete work orders, including notes on services provided.
Create and submit Service Reports and Quality Inspection images and reports.
Submit timesheets and supply house pick tickets.
Completes all paperwork neat, accurate, thorough, and timely.
 Maintains timely and consistent communications with our internal support team.
Performs assigned day-to-day repairs, as well as emergency and preventive maintenance.
Completes other duties as assigned or required.
Daily local travel between properties.
Responsible for keeping your vehicle clean and neat inside and outside in keeping with the company's professional image.
Qualifications:
Minimum of 3-5 years of experience servicing and maintaining 5-TON and over HVAC equipment.
Experience with refrigeration equipment is preferred but not required.
EPA Certified
 Have and maintain a clean driving record
Ability to perform independently and in a team-oriented environment
Professional appearance and hygiene
Possess necessary hand tools, meters, and gauges
Compensation:
Based on knowledge and experience with HVAC/ Refrigeration equipment
$20-$27/hr +
Company vehicle and fuel
 Company provided phone
 Company provided uniforms
 Continuing education opportunities
Benefits:
Competitive Pay
Full-Time
Steady, year-round work
Paid Major Medical (eligible after 90 days)
o Dental and Eye Included
Paid time off and company holiday pay (eligible after 90 days)
 Retirement package (eligible after 90 days)
Career development opportunities