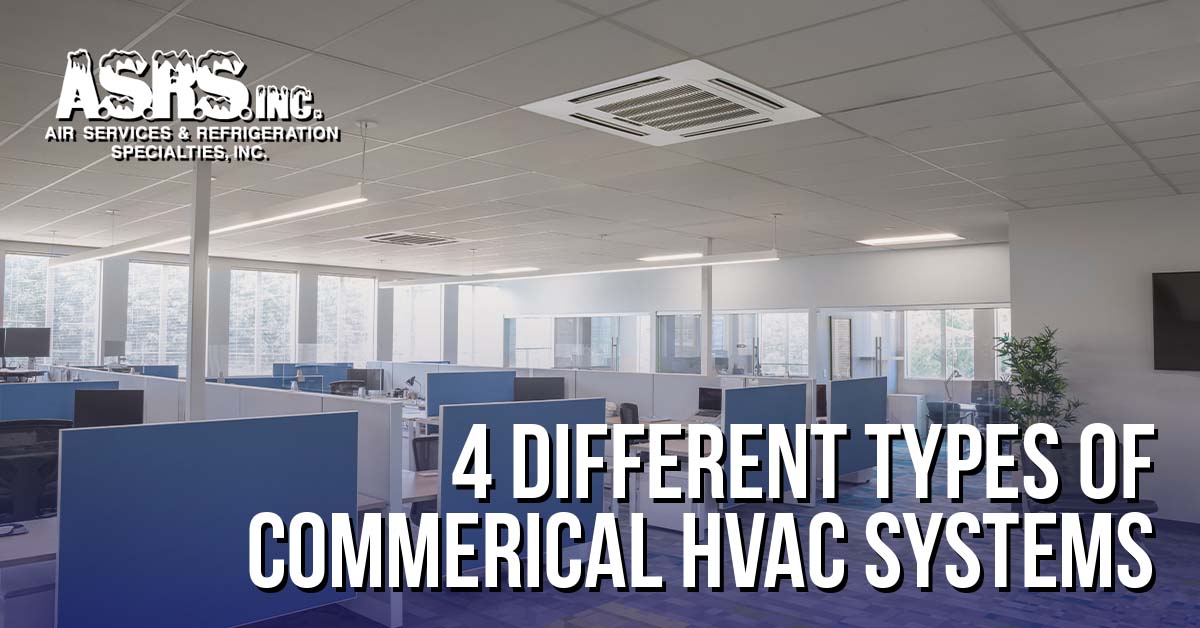 No matter what kind of business you run, the need for commercial HVAC systems is one of the most important considerations as you plan out a commercial building's layout. Commercial HVAC systems offer heating, cooling, and dehumidifying to both workers and customers. In the modern age, it's expected that you provide the basic comforts of an HVAC system to improve worker morale and customer satisfaction. Nowhere is this more true than in Georgia, with its high summer temperatures.
Commercial properties often differ significantly from residential properties, so commercial HVAC systems needed to provide heating and air conditioning services must also vary. As such, many different styles are offered to account for the needs of various commercial building layouts. As a manager, navigating the optimal type for your property can be confusing.
At Air Services & Refrigeration Specialties, Inc., we're happy to offer a simple guide on how four different commercial HVAC systems work and what kind of property they best serve.
Single Split/Ductless HVAC Systems
These are best suited for smaller commercial buildings, like cafes, small offices, and shops. They are smaller and are built to cool or heat a single area. These commercial HVAC systems, also called ductless, mini-split air conditioners, consist of one outside unit and one indoor unit.
As such, business owners can expand a single split system if their business increases in size. Similarly, each area works independently, so the room's occupants can adjust the temperature without impacting someone else within the system.
These units are among the most affordable options for small businesses and benefit business owners to expand single split systems continuously. However, taking the cheaper option will sacrifice space inside and out.
Heat Pumps
Heat Pumps offer heating and cooling by removing heat and distributing it throughout the building. These are perfect for various sizes of facilities, including large schools and gyms.
While they can be suitable for buildings that need to be kept cooler, these systems function less efficiently in areas that tend towards freezing temperatures. While they can offer heating through furnaces, if your location finds itself dipping below 40 degrees, it may be wise to look into alternatives for commercial HVAC systems.
Multi Split HVAC Systems
Multi-split system work similarly to single-split systems but have multiple indoor units that connect to a singular outdoor unit. The manufacturer determines the number of systems one outdoor unit can power.
These serve larger offices well, as you can have multiple units heating multiple spaces while saving space. These are an economical option for those who need various units, with the added nature of it saving energy.
The downside of multi-split systems is that they often have a higher initial installation and maintenance cost, as there is far more pipework necessary to connect the systems.
VRF and VRV
Otherwise known as variable refrigerant flow (VRF) or variable refrigerant volume (VRV). These systems use refrigerant to heat and cool. These systems are similar to multi-split systems because they have one exterior unit connecting to multiple interior units. However, they work by transporting heat from the warmer parts of the building to redistribute throughout them.
These systems suit medium and large buildings such as hotels and retail stores. Facilities that require custom cooling and heating systems benefit from this style. However, as a trade-off, installation, repair, and overall cost remain high.
Need Commercial HVAC Systems? Call A.S.R.S
A.S.R.S., Inc has been working since 1982 to assist the Southeast region with all its HVAC and commercial refrigeration service needs. For those looking to improve their HVAC systems or help with HVAC installation into a new property, A.S.R.S. offers installation services for both Commercial and Residential locations. Our certified technicians can assist with HVAC repair or preventative maintenance checks to ensure that your business or home system works as it was designed.
Air Services & Refrigeration Specialties, Inc. is your commercial HVAC installation and repair source. We service nine counties in southeast Georgia and South Carolina, including Bulloch, Liberty, Chatham, Bryan, Effingham, McIntosh, Glynn, Jasper, and Beaufort.